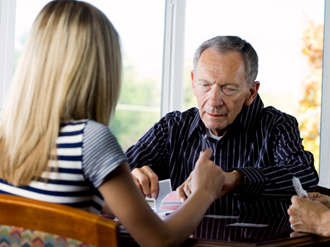 As one of the top 10 states to spend retirement in the U.S., Arizona boasts a dynamic and comprehensive legal system, with elder law being one of the most prominent and formidable areas of practice.
At Elder Law of Arizona, we pride ourselves in offering over 10 years of legal experience and unwavering commitment to the communities and elderly individuals dealing with issues ranging from the simple to the complex.
What is Elder Law?
As the name indicates, this area deals primarily with legal, financial and care concerns involving the elderly. Elder Law attorneys are not just legal specialists; they are also financial caregivers in their own right, due to the multiple ways they can help the older generation plan for financial well-being and end-of-life arrangements.
They can assist not only with long-term decisions but also with pressing problems such as physical and emotional abuse, financial exploitation, Medicaid benefits, placement in a nursing home or assisted-living facility and the legal rights that accompany those arrangements.
What an Elder Law attorney can do for you
Our team is focused on providing quality legal assistance to our aging population by helping with the following:
Retirement planning such as Roth IRA and 401(k) issues
Filing social security claims, including appeals
Medicaid and/or Medicare benefits
Veteran benefits
Guardianship of an elderly or special needs person
Estate planning which translates into setting up the management and distribution of the individual's assets in the event of incapacitation or death
Compassionate and prompt representation in cases of nursing home neglect or abuse of an elderly person
Patient rights in the event of hospitalization, admission to or living in a private health-care facility or home care situation
Advice and assistance with drafting and registering advance directives with the Arizona Secretary of State's office. Advance directives are: living wills, medical care powers of attorney, mental health care powers of attorney, or do-not-resuscitate orders
Preparing a last will and testament which details how your personal, real estate and digital assets will be distributed at the time of death
Income and gift tax matters
Financial and guardianship planning for a minor or an adult with special needs
Other legal representation for housing or evictions, probate, and other estate planning matters
Seeking help can save you headaches down the road
Making an unfavorable decision happens to everyone, and it can have far-reaching consequences not just for the elderly person involved, but for their family and caregivers as well. Setting your mind at ease is one of our priorities. We take on the burden of your legal needs and help you through challenging times so you can enjoy your retirement as much as possible. A small case, where financial resources are modest, receives the same qualified and dedicated representation as a big retirement portfolio. Our billing practices are straightforward, with no hidden fees, and are tailored to your specific needs.
For an initial consultation to assess your legal needs and see how we can better help you, please contact our office at phone number 602-358-8606 or visit our website https://elderlawofaz.com