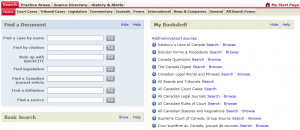 Every lawyer spends a lot of time doing research, and it can often be a rigorous and frustrating task. If you are a lawyer who needs a better way to conduct that research, it's time to look in to LexisNexis Quicklaw Full Service.
Full Service is a comprehensive legal research tool suitable for anyone who works in a law firm. Full Service gives you access to Canada's most powerful online search engine and is certain to change the way you look for the legal content you need.
There are so many benefits that working with Full Service will bring to you and your firm. You'll have access to the most thorough collection of court decisions, legislation, legal commentary and news, dating all the back to the 1800s across all Canadian jurisdictions.
With a subscription to Full Service, you'll be able to learn more than ever about a topic, and you'll always be up-to-date on news and case developments, which means you'll be far ahead of the competition. And you'll always know that you've done the most comprehensive research because you'll have access to over 800 Canadian and international law journals, as well as more than 100 NetLetters™.
Once you've completed all this research, you'll be able to quickly and easily cite all your work with QuickCITE™ Case Citator. This will validate your claims with references to the most relevant legislation.
Another feature of Full Service is QuickFind™ with Auto Link, which will help you scan your work for citations and turn embedded links in to full-text documents.
To get a free trial LexisNexis Quicklaw Full Service right now, click here.
 Featured image source: lexisnexis.ca